1812: The Rivers of War is a 2005 alternate history novel by Eric Flint. The book was originally published in hardcover as simply The Rivers of War. It is the first volume of a series that has come to be called the Trail of Glory, which posits a timeline wherein the Cherokee and other Indian groups forced to migrate in OTL with tragic results instead were able to migrate on their own terms and establish a new country.
Plot
[
]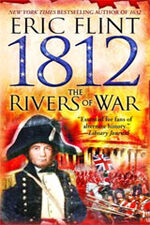 The story, which takes place in 1814–15, centers around an alternate historical version of the War of 1812. The point of divergence is at the Battle of Horseshoe Bend, where Sam Houston, who was seriously injured in real history, sustains only a minor injury and is able to continue fighting. This positions him to become a protegé of Andrew Jackson much earlier, giving him a chance to address Jackson's eventual plans to crush the Cherokee.
At Jackson's insistence, Houston journies to Washington, D.C., and helps successfully defend the city from the British with the aid of soldier Patrick Driscol, the Cherokee diplomats Houston brought with him, and Negro soldiers. Soon, their fates are entwined, as all participate at the Battle of the Mississippi (an analog for the Battle of New Orleans), demonstrating how a multi-racial group can work together in defense of the country.