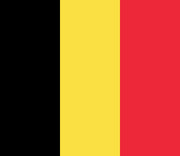 Belgium (/ˈbɛldʒəm/; Dutch: België; French: Belgique; German: Belgien), officially the Kingdom of Belgium , is a federal monarchy in Western Europe. It is a founding member of the European Union and hosts the EU's headquarters as well as those of several other major international organizations such as NATO. Belgium covers an area of 30,528 square kilometers (11,787 sq mi), and it has a population of about 11 million people.
Belgium is home to two main linguistic groups: the Dutch-speaking, mostly Flemish community (which constitutes about 59% of the population), and the French-speaking, mostly Walloon population (which comprises 41% of all Belgians). Additionally, there is a small group of German-speakers who are officially recognized. Belgium's two largest regions are the Dutch-speaking region of Flanders in the north and the French-speaking southern region of Wallonia.
Belgium in 1632

[

]
In the 1630s, what eventually became the modern Kingdom of Belgium made up most of the Spanish Netherlands.
Belgium would never exist in this new timeline as the United Netherlands has made Belgian secession a moot point