Cologne (English pronunciation: /kəˈloʊn/, German: Köln [kœln], Kölsch: Kölle [ˈkœɫə]) is Germany's fourth-largest city (after Berlin, Hamburg, and Munich), and is the largest city both in the German Federal State of North Rhine-Westphalia and within the Rhine-Ruhr Metropolitan Area, one of the major European metropolitan areas with more than ten million inhabitants.
Cologne is located on both sides of the Rhine River. The city's famous Cologne Cathedral (Kölner Dom) is the seat of the Catholic Archbishop of Cologne. The University of Cologne (Universität zu Köln), established in 1388, is one of Europe's oldest and largest universities.
Cologne in 1632

[

]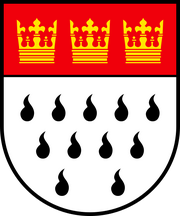 During the Thirty Years' War, Cologne was a free imperial city within the Holy Roman Empire.[n 1]
In May of 1632, the barber-surgeon Gerhard Eichhorn and Matthias Wagener, head of the Antonite hospitaller order in Cologne, traveled to Grantville. There, they received freeze-dried Penicillium notatum cultures that had been salvaged from the refrigerator in the science department of Grantville High School. By 1635, Cologne had become the first city to produce usable quantities of penicillin.[1]
Sometime in the first half of 1633, Cologne negotiated an agreement with Gustavus Adolphus and his allies.[2] Sometime in the latter half of 1635, Cologne voluntarily entered the United States of Europe as an imperial city.[3]
Notes
[
]
↑ The archdiocese/electorate of Cologne was separate and distinct from the city. The archbishop-elector of Cologne, then Ferdinand of Bavaria, sat in Bonn.
References
[
]
↑ Grantville Gazette X, "The Prepared Mind"
↑ Grantville Gazette XIV, "A Matter of Unehrlichkeit". The nature of the agreement is not mentioned. Dates are not given; dating is estimated based on internal references in the story.
↑

Per the Grid. This does not appear to have been written about, and it is possible that the exact time frame is TBD.