Grantville High School was the sole high school of Grantville, West Virginia. After the Ring of Fire deposited the town in Thuringia, the high school was the largest and best equipped facility for handling large numbers of people. Its gymnasium was used for larger assemblies of all kinds, including the Emergency Town Meeting three days after the Ring of Fire. Many of its rooms and facilities were co-opted by the Grantville Emergency Committee, and many services, such as the dispensary and library, and a resettlement/refugee center, were provided in addition to normal education—which resumed normally a few days after the ROF. Under the press of the inflow of refugees, many night courses and fuller use of the facilities came about.
Most of the movers and shakers of the future United States of Europe were attending Tom and Rita Simpson's wedding reception at the high school when the Ring of Fire happened.
While the school's formal name is "Calvert High School", that name is not often used.
By 1636, graduates - both American and European - with diplomas from Grantville High School were considered highly prestigious, superior in some respects to down-time universities.[1]
Literary Comment
[
]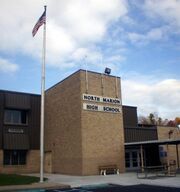 The physical plant of the High School is faithful to the physical plant of the North Marion High School (see photo) in Mannington, West Virginia, the town Grantville and its resources are based upon
External links
[
]
References
[
]
↑ 1636: The Ottoman Onslaught p.487: "Granted, Nasi defined "scanty" idiosyncratically. Most Europeans of the day—and all Americans—considered a degree (or "diploma," in the up-time lexicon) from the world-famous Grantville high school to be very prestigious. Not, perhaps, equal to a degree from a university in some respects—but in many others, actually superior. Anyone with any sense, for instance, would have far rather gotten medical care and advice from someone who'd graduated from Grantville High and then went on to study medicine in the program jointly run by the SoTF Tech and the University of Jena, than from someone who had an officially more advanced degree in medicine from a down-time university."