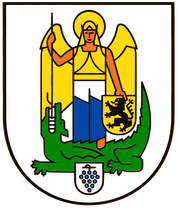 Jena is a university city in central Germany on the river Saale. With a population of 103,000 it is the second largest city in the federal state of Thuringia, after Erfurt.
Jena in 1632

[

]
Sometime after the Battle of Breitenfeld, Jena was threatened by an approaching army of mercenaries. As Jena had neither has an outstanding army nor the fact of possessing the amount of money to bribe its attackers it had already previously paid Count Tilly and his Catholic League. Fortunately, the American forces of Grantville offered their which was quickly accepted. At that time, the residents of Jena were equally dumbfounded by the 21st century town, leading of many of its theologians heatedly argued whether it was of deviltry or of divine origin.
Grantville forces battled and defeated the mercenaries. Jena's youth and students were very impressed with Grantville's modern technologies. Their interest in part inspired Gretchen Richter to create the Committees of Correspondence. Also, Gretchen helped her friend Mathilde and her extended family by killing their conniving would-be pimp Max Jungers. Following this, Michael Stearns and along with his army confronted Jena's notables and heavily criticized them for allowing miscreants like Jungers a free hand in Jena. The notables, intimidated by Stearns, immediately provided information on an establishment frequented by such miscreants. Grantville laid waste to the establishment, and its regulars quickly left Jena for good. Thereafter, a flow of goods and knowledge between Jena and Grantville was established.